The Lost Book of the White
The Eldest Curses 2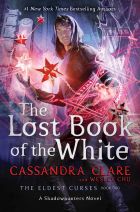 | | |
| --- | --- |
| Jazyk: | anglicky |
| Počet stran: | 400 |
| Formát: | 15,3 x 23,4 cm |
| Nakladatel: | Simon & Schuster Children's |
| Vazba: | měkká |
Anotace

From #1 New York Times and USA TODAY bestselling author Cassandra Clare and award-winning author Wesley Chu comes the second book in the Eldest Curses series, which continues the love story between Magnus Bane and Alec Lightwood. The Lost Book of the White is a Shadowhunters novel.

Magnus Bane and Alec Lightwood are settling into domestic life with their son Max when the warlocks Ragnor Fell and Shinyun Jung break into their loft and steal a powerful spell book. Realizing that Ragnor and Shinyun are being controlled by a more sinister force, Magnus and Alec set out to stop them and recover the book before they can cause any more harm. With the help of Clary Fairchild, Jace Herondale, Isabelle Lightwood, and Simon Lovelace (who is fresh from the Shadowhunter Academy), they track the warlocks to Shanghai.

But nothing is as it seems. Ragnor and Shinyun are working at the behest of a Greater Demon. Their goal is to open a Portal from the demon realms to Earth, flooding the city of Shanghai with dangerous demons. When a violent encounter causes Magnus's magic to grow increasingly unstable, Alec and Magnus rally their friends to strike at the heart of the demon's power. But what they find there is far stranger and more nefarious than they ever could have expected…

This edition also includes a never-before-seen wedding scene featuring fan favourites from the Shadowhunters universe.

Perfect for fans of Leigh Bardugo, Holly Black and Sarah J. Maas.

Also by Cassandra Clare:

The Dark Artifices:
Lady Midnight
Lord of Shadows
Queen of Air and Darkness

The Eldest Curses:
The Red Scrolls of Magic

Další knihy od tohoto autora

Další informace

| | |
| --- | --- |
| ISBN/EAN: | 9781471162107 |
| Rok vydání: | 2020 |

Diskuze

The Lost Book of the White

Dobrý den. Mohu se zeptat, jestli je v plánu český překlad?

Re: The Lost Book of the White

Dobrý den, vydání druhého dílu série Nejstarší kletby je naplánováno na podzim 2021. Do té doby bychom od Casandry Clare měli vydat první díl série Poslední hodiny (leden/únor), knihu The Bane chronicles (jaro) a všechny 3. díly série Pekelné stroje (léto).