Clockwork Angel (The Infernal Devices 1)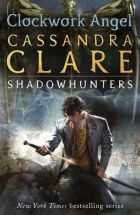 | | |
| --- | --- |
| Jazyk: | anglicky |
| Počet stran: | 496 |
| Formát: | 12,8 x 19,2 cm |
| Nakladatel: | Walker Books |
| Vazba: | měkká |
Anotace

First in Cassandra Clare's internationally bestselling Infernal Devices trilogy about the Shadowhunters.

Love is the most dangerous magic of all... First in the bestselling prequel series to The Mortal Instruments, set in Victorian London. Something terrifying is waiting for Tessa Gray in London's Downworld, where vampires, warlocks and other supernatural folk stalk the gaslit streets. Tessa seeks refuge with the Shadowhunters, a band of warriors dedicated to ridding the world of demons. Tessa finds herself fascinated by – and torn between – two best friends… This edition contains a map and a new foreword by Cassandra Clare. Read all the sensational books in The Shadowhunter Chronicles: The Mortal Instruments, The Infernal Devices, Tales from the Shadowhunter Academy, The Bane Chronicles, The Dark Artifices, The Last Hours and The Shadowhunter's Codex.

Další knihy od tohoto autora

Další informace

| | |
| --- | --- |
| ISBN/EAN: | 9781406330342 |
| Rok vydání: | 2011 |

Diskuze

Clockwork Angel (The Infernal Devices 1)

Dobrý den, budou ještě někdy knihy ze série Pekelné stroje dostupné na skladě? Pokud ano, budou s těmito hezkými obálkami česky, nebo jen anglicky?

Re: Clockwork Angel (The Infernal Devices 1)

Dobrý den, knihy můžeme dovézt na objednávku. V takovém případě nás prosím kontaktujte mailem. Příští rok bychom pak měli tuto sérii vydat v češtině.